VG portfolio company Flo Mobility raises $400,000 from DevX Venture Fund, VG-Angels & Others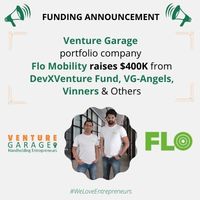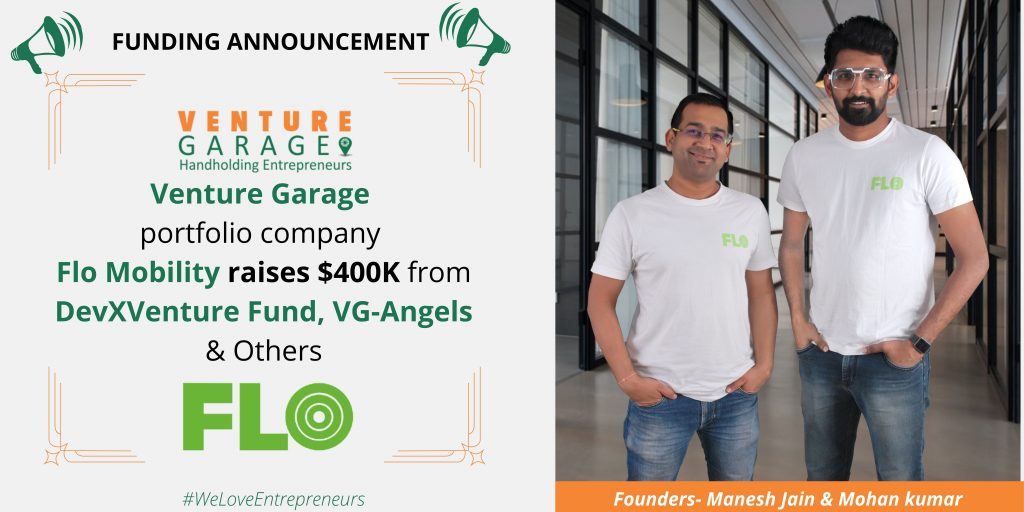 Bangalore, December 20, 2021: Venture Garage portfolio company – Flo Mobility, a vision-based autonomous technology company, today announced that it has raised $400K from DevX Venture Fund, VG-Angels, Blume Founders Fund, Vinners and other marquee angels.

The company's stated vision is to build a universal autonomy platform that can bring autonomous capabilities to vehicles across industries and form factors. The company is deploying its stack on a wide variety of vehicles like electric scooters, delivery bots, agri-weeders, surveillance bots, golf carts, lawnmowers, etc. Founded in 2019 by Manesh Jain and Mohan Sivam Flo Mobility aims to democratize autonomy by building an affordable, compute lite and interoperable stack that can also be retrofitted into existing vehicles and equipment.
"We see a great future in autonomous technologies and an estimated market opportunity of US$ 40-50 bn. The team has the right domain understanding, not only to build the tech but to also expand globally. My best wishes to the founders to build a 100X business".

commented Mr. Vivek Kumar, CEO & Director of Venture Garage
Speaking on the occasion, Mr Manesh Jain, Founder – Flo Mobility, said, "The funding from DVF and others comes at an exciting time as we seek to expand nationally and to the US, Middle East, Europe and East Asia. As we recruit aggressively across our technology, product and engineering teams, we will be further deepening our research on vision-based perception, low latency remote operations and proprietary Flo operating system. Autonomous tech is finding its way around multiple applications and I believe our platform-centric approach and subscription-based pricing will pave the way to build a multi-billion-dollar business"
"We are excited to infuse funds in Flo Mobility. At DVF (DevX Venture Fund) our investment approach largely revolves around having a strong founding team and we found a perfect match in seasoned entrepreneurs like Manesh and Mohan. Smart solutions for the Autonomy-as-a-Service are the future and given Flo Mobility's deep understanding and tech capabilities, I am confident that their offerings will find many takers. Going forward we strongly anticipate a massive impact on the sector, given the game-changing proposition that Flo Mobility's offerings have".

Mr. Umesh Uttamchandani(lead investor) Co-founder & CGO of DevX
"Manesh has been known to us as the founder of Mockbank, a Blume portfolio that exited to Jio Embibe. His co-founder Mohan, has a solid background in hardware and tech. What intrigued us was Flo Mobility's focus on low-end autonomy. We believe there could be a leap in the adoption of autonomous technology – Flo Mobility's tech stack can be used to convert a large range of vehicles to autonomous vehicles at a significantly lower cost. Indian deep-tech ecosystem is showing signs of maturity where companies like Flo Mobility are building for the world out of India and we are excited to be part of Manesh's second innings through the Blume Founders Fund".

Ms. Sarita Raichura of Blume founder's Fund
Deep tech startups are finding their mojo with investors where companies attempting the impossible are getting access to funds and getting early backers who assist in shaping the business side of the venture. Recent investments in deep-tech startups are now establishing India as a hub for such innovations.
---
Read More about Flo Mobility here: https://venturegarage.in/flo-mobility/
---