91Squarefeet gets selected in YC W22 Batch, raises $1Mil in Pre- Seed round led by Omphalos Ventures, Nikhil Vora of Sixth Sense Ventures, Actor Rannvijay Singh & VG-Angels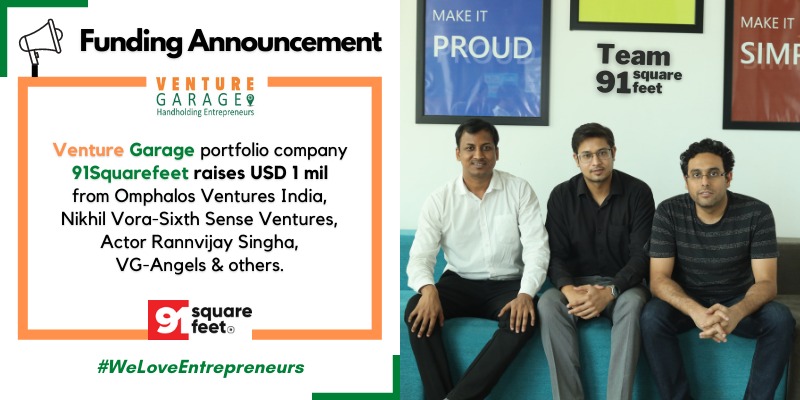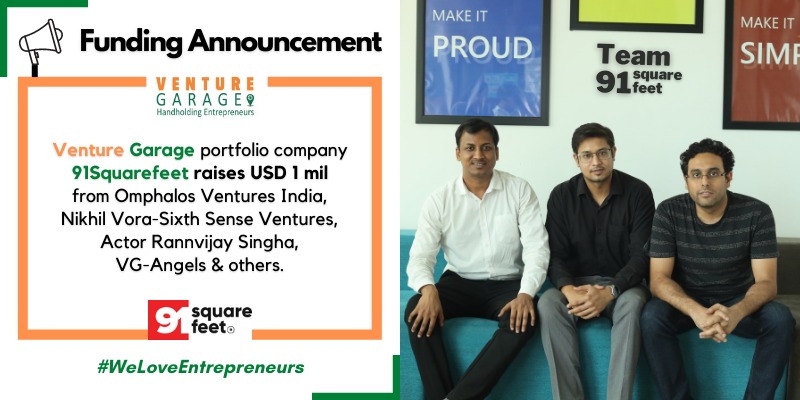 Gurgaon, 06th Jan 2022: Venture Garage's portfolio company, 91Squarefeet.com (Earlier Rolling Banners), a retail store development company based in Gurgaon has raised USD 1Mil in a pre-seed round by Omphalos Ventures India, Nikhil Vora of Sixth Sense Ventures, Actor Rannvijay Singh Singha & VG-Angels among other marquee angels. The company has also been selected for Y-Combinator's W22 batch.

The91Squarefeet was launched in 2018 by Amit Bansal, Amit Mishra & Puneet Bansal with a vision to become a one stop expansion partner for organised retailers. It is enabling retailers to build new retail stores and maintain existing ones without an in-house projects team. One can think of it like the LivSpace for B2B.91Squarefeet has built a project management platform where brands can seamlessly collaborate with the suppliers of retail fitouts and speed up their expansion.
"91Squarefeet's team has a deep understanding of India's retail space construction market and has industry leading technology to build a large business very quickly without compromising on business fundamentals. The founders' backgrounds and experiences makes them uniquely positioned to organise this multi-billion dollar unorganised Industry segment".

commented Mr. Sagar Ramteke, Director – Omphalos Ventures India
It is generally inconvenient and uneconomical for brands to develop indigenous competencies for developing new stores. 91Squarefeet is liberating brands from this hassle and levelling the playing field for new entrants. The company has a tech+service model wherein it takes over the entire store development operations from a brand and reports the performance via a project management dashboard.

Nikhil Vora, Founder & CEO of Sixth Sense Ventures has invested in 91Squarefeet in his personal capacity. Nikhil stated, "The biggest opportunity in India is all about the shift from unorganised , fragmented and non-transparency to an organised, consolidated and transparent platform. Happy to be part of the journey and build further on the dream of the founders as 91Squarefeet potentially cracks into and takes on a defining market of USD 10Bil retail fit out category".

With clientele like Bridgestone, Yokohama, DHL, TATA, Chaipoint, CEAT, Pepperfry etc. the company is currently building 40+ outlets month-on-month. The start-up has deeply integrated with 600+ manufacturers of furniture, retail fixtures, and signages with a combined production floor capacity of 30 Mn square feet. Till date, 91Squarefeet has developed 500+ outlets for 20 brands across 22 states in India.
"The founders saw a huge market opportunity in organised retailing. Since liberalization of FDI norms in 2012, the organised retail stores have tripled in volume. Additionally, great traction with a strong team is what we believe will lead this company to be a great success story. This fundraise is a testament to the strength of their business model".

says Mr. Vivek Kumar CEO- Venture Garage
"The raised capital will be used in upgrading our capacity to handle 500 stores a month kind of business volume over the next 12 months. Driving tech adoption amongst the supplier base is going to be a focus area".

Ms. Amit Bansal, Cofounder- 91Squarefeet
---
Read More about 91Squarefeet(Earlier Rolling Banners) here: https://venturegarage.in/rollingbanners
---