Venture Garage's portfolio Startup- Voiceoc raises an angel round from U.S. based accelerator Expert Dojo and Astir Ventures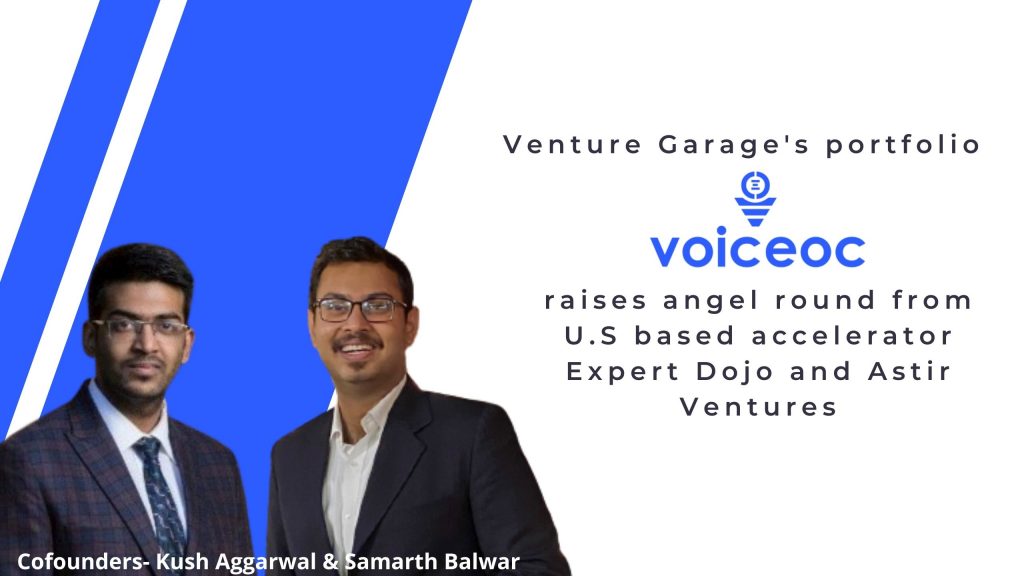 New Delhi, 11 March 2022: Founded by Delhi based Kush Aggarwal & Samarth Bhalwar, both of whom have been managing a healthcare institutes for the last 3+ years, Voiceoc has raised an angel round from United States based accelerator Expert Dojo & prolific angel Kishore Ganji from Astir Ventures. Voiceoc also gets shortlisted by Expert Dojo for their Startups Programme.

Voiceoc is a SAAS offering that provides customer-friendly Conversational AI on WhatsApp & Call Centre to help healthcare companies enhance bookings & provide convenience to patients by using Next-Gen AI & Sentiment Analysis modules. The modules enable healthcare companies to bring all their patient engagement services such as appointment booking, lab reports/medical  records/invoices access, patient support, medical inquiry etc. on WhatsApp using AI/ML.
Just in 1.5 years of launch, they have onboarded 18+ big paying clients from 6 countries – India, Saudi Arabia, Oman, Bahrain, UAE & Indonesia.
"We are trying to bring impact in the healthcare industry of developing & industrial nations through Voiceoc. We aim to revolutionize how patients interact with healthcare companies and vice versa," said Kush Aggarwal, Cofounder – Voiceoc.
According to Samarth Bhalwar, Cofounder – Voiceoc, moving forward the funds raised will be invested towards team building and scaling product to multiple new markets.
Brian Mac Mohan, Head Honcho at Expert Dojo said, "I highly recommend Kush and his team to any potential investors. My venture capital firm, Expert Dojo, invested in his company and we cannot speak highly enough of the professionalism of the founding team and how dedicated they are to building a company that will make us proud and provide fantastic returns. Great founder."
Expert Dojo is an international early-stage startup accelerator. It works with pre-seed to series-A companies, providing opportunity to companies globally. Since 2018, Expert Dojo has invested in over 150 companies.
"Well trained on vast amounts of healthcare data, Voiceoc has the capacity for end-to-end integration with backend systems, the AI models are designed in such a way that they validate incoming patient input. The pandemic has pushed them towards AI based conversations, and has paved a path for companies like Voiceoc to become the next frontier of digital transformation in healthcare," said Vivek Kumar CEO- Venture Garage       
---
To know more about Voiceoc, visit- https://venturegarage.in/voiceoc/  
---