Nodwin Gaming, a subsidiary of Nazara Technologies has invested in Brandscale Innovations(Wings Lifestyle), a Venture Garage portfolio company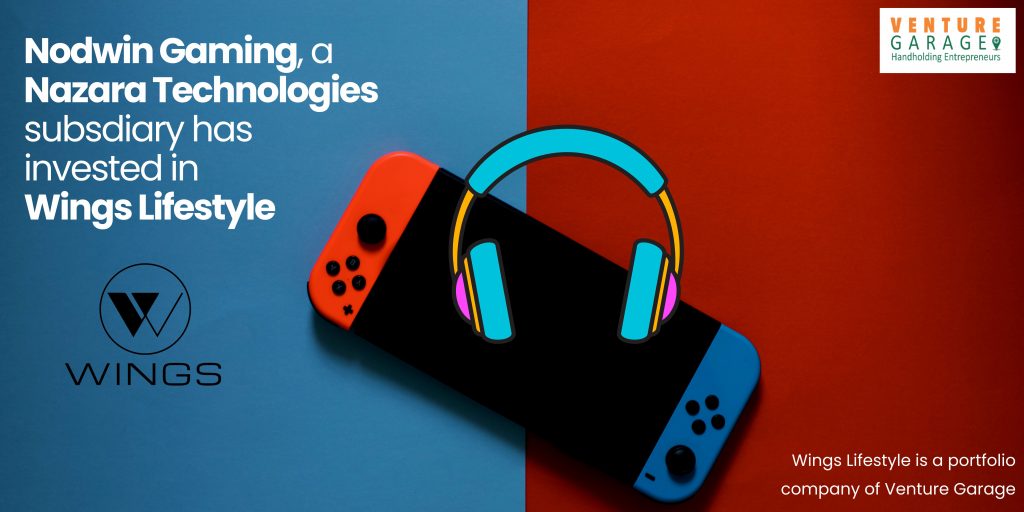 Nazara Technologies, through its subsidiary Nodwin Gaming, has acquired 35 percent stake in Brandscale Innovations(Wings Lifestyle) for around Rs 10 crore. Wings Lifestyle is one of the portfolio companies of Venture Garage.
By this investment Nodwin wants to expand and strengthen its retail presence while also speeding up its D2C strategy for the gaming and sports audiences in India. The company also plans to roll out a bespoke series of gaming headphones based on popular Indian gaming and esports talents and influencers.
"Categories such as Lifestyle Audio, Smart Watches and Gaming Accessories are seeing staggering online sales in the last 3 years and this market is slated to be a 25,000cr+ market in the next 5 years. Indian brands continue to gain market share through Aggressive Pricing & Marketing + Quick Product Launch. The company's future is bright, and this investment will assist them in making a significant jump forward."

said Vineet Sagar, Managing Partner, Venture Garage
Brandscale Innovations is a Gen-Z focussed gaming accessory, lifestyle audio, and smart watched brand. Currently Wings is existent in these 2 categories: Wireless Earbuds, Neckband Earphones. Expansion to ALL other categories is already in line for Jan'22 Launch: Over Ear Headphones, Wired Earphones, Bluetooth Speakers, Soundbars, Gaming Headphones, Gaming Mouse, Gaming Keyboard, Gamepad Controllers, Smart Watches.
"Strategic investments like these enable us to achieve our vision of creating a successful multi-dimensional gaming and esports strategy," said Akshat Rathee, Co-founder and Managing Director, Nodwin Gaming. "This investment will hopefully fill in the gap created by the huge demand for customised earbuds and headphones among the gaming and esports community."
"We built the company completely bootstrapped for the last 3 years and have successfully brought it to where it is today. We now feel it is the right time to get external funding and grow Wings to become a global gaming brand. Nodwin Gaming and Wings share a common vision of supporting and growing the gaming community and we couldn't have asked for a better partner in this journey."

said Nishit Sharma and Vijay Venkateswaran, Co-founders, Wings
---
Read more about Brandscale Innovations (Wings Lifestyle) here
---