Edugorilla
Ed-Tech start-up EduGorilla raises funding from Auxano Entrepreneur Fund and group of Angels led by Venture Garage– intending to step up sales and marketing efforts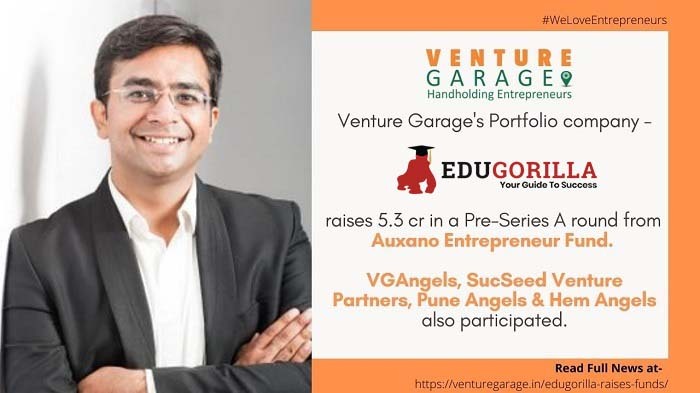 –EduGorilla to hire marketing and sales professionals across 15 cities
-It targets to cater to 6-7 lakhs users daily from the existing 70,000 besides developing content for over 3,000 competitive examinations
Lucknow, 29th September 2020- Lucknow-based ed-tech start-up EduGorilla has raised funding to the tune of approximately INR 5.3 crores (USD 726,000) from SEBI – Cat 1 Angel Fund – Auxano Entrepreneur Fund and group of Angels led by Venture Garage – SucSEED Venture Partners, Pune Angels, Hem Angels and VGangels. EduGorilla plans to utilize the funding for intensification of its marketing and sales functions for an array of its offerings. It has currently teams in five cities – New Delhi, Jaipur, Indore, Ahmedabad and Lucknow.
EduGorilla aims to cater to 6-7 lakhs users daily from the existing 70,000 besides developing content for over 3,000 competitive examinations in nine vernacular languages with the help of fresh capital.
" The funding strengthens our resolve to be a formidable pillar of support to students through our top-notch content and leveraging of cutting-edge technology. It will be deployed to step up our marketing and sales efforts to cater to the recent surge in users.  Over 7.5 crores applicants appear for state-level competitive examinations in India every year that is an untapped opportunity for us. Approximately 93% of our target audience hails from rural India and barely knows English."

Said, Mr. Rohit Manglik, Founder& CEO, EduGorilla commenting on the development
EduGorilla launched the first test series in November 2018 and built a set of technology tools to reduce the turnaround time for conducting a demand analysis as well as for the creation and distribution of content. EduGorilla currently caters to 1200+ competitive entrance exams in five languages with a focus on state-level government examinations such as Karnataka State Police, Punjab Public Service Commission, and Telangana State Cooperative Apex Bank examinations.
"We use a mix of emerging technologies such as Artificial Intelligence, Machine Learning and Natural Language Processing for predictive analysis of on-demand examinations as well for content development. The automated workflow process has reduced our time drastically to 48 hours to generate content.  Moreover, the development of top-notch vernacular content along with innovative distribution strategies has reaffirmed speed, credibility and accessibility as among our value propositions. We are now planning to expand marketing and sales teams across 15 cities in India as a part of our expansion strategy to make further inroads into this space"

said Mr. Shashwat Vikram, Co-Founder & Chief Technical Officer, EduGorilla.
EduGorilla has built an Artificial Intelligence-powered demand and prediction algorithm to assess the operational profitability of various competitive examinations. This analyses two key variables – a dynamic variable identifying the type of opening, number of vacancies and under which state government and department, a particular examination falls. The second variable maps the trends in this regard like searches on Google, e-commerce portals and its portal for the content/publications. This assessment helps EduGorilla to identify primary focus examinations. Subsequently, EduGorilla generates the test preparation content and mock tests for a particular exam in just 48 hours (which conventionally takes around 25-30 days) through automated workflow. Its Artificial Intelligence-powered software automatically converts the test content to a book format that can be purchased via e-commerce platforms such as Amazon and Flipkart. EduGorilla operates on a subscription-based model in B2C with monthly or yearly offerings in the price bracket of INR 99- INR 699
"With digital being the approach and EduGorilla with its product knowledge and positioning, is poised to tap the opportunity in the competitive examination space. With its expertise in the vernacular language (5 and growing) examinations, will only add to its market leadership position"

said Leadership Team, Auxano Entrepreneur Fund
Vivek Kumar, CEO of Venture Garage, who has worked with Rohit for over a year now, feels Edugorilla addresses a large need gap in small-town India and is well placed to become a dominant player.
EduGorilla had earlier raised funding from Turbostart, a national programme by Bengaluru-based InnovationQore that identifies and nurtures 25 innovative start-ups every six months. It has witnessed a 100% surge in sales owing to the spike in digital learning during the COVID-19 lockdown.
VGangels, an angel network backed by Venture Garage is about 500+ Angels strong and invests in early-stage and bridge rounds in startups headed for Series A. The VGangels network has already participated in 5 startups in the last 4 months
---
To join our investor network, write to us- vk@venturegarage.in
Looking to raise funds? write to us- investments@venturegarage.in
---