Wobot
Sequoia India invests $2.5Mil in Venture Garage portfolio startup, Wobot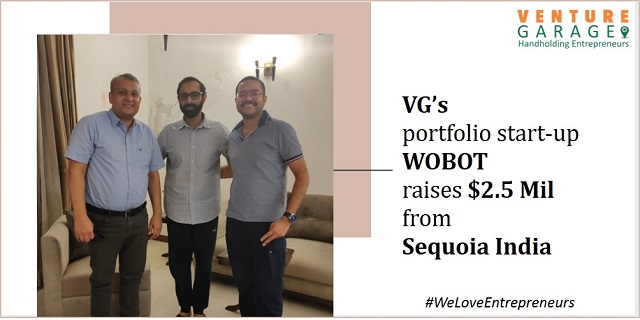 Wobot, an AI powered video analytics solution has raised $2.5 mil in Pre-Series A funding round from Sequoia India. Wobot connects to CCTV and other cameras to help in monitoring process compliance while detecting and tracking anomalies in an organisation's Standard Operating Procedures which include hygiene, safety, productivity, and customer experience.
Ashish Agrawal, Principal, Sequoia Capital India LLP, said, "Computer vision has seen tremendous advances in recent years, resulting in widespread adoption for varied enterprise needs. This includes process compliance in areas such as security, manufacturing, and retail. Increased concern for hygiene and safety post-Covid-19 has heightened the importance of process compliance. Sequoia India is excited to partner with the Wobot team as they build a global SaaS business serving this enterprise need."
"Wobot's vision has always been to create a transparent and seamless workplace with 100 per cent process compliance where the camera acts as a third eye and provides continuous feedback for employees on the job. This does not necessarily mean only pointing out violations but also giving a pat on the back for following the right SOPs and adhering to compliances."

said Adit Chhabra, co-founder and CEO of Wobot
Wobot will utilize the funding capital for team and global expansion, and to strengthen its proprietary technology offering to cover more use cases and industries.
"There is a lot of information that CCTV cameras capture, however, only a fraction of the cameras are intelligent today to make sense out of the information in real-time. Wobot's SaaS offering can make existing CCTV cameras smart and is a great way for businesses to ensure SOPs are being followed for smooth running of operations.We have always believed in the founding team of Wobot and have been assisting the company in its fund raising efforts since its first round of investment. We are glad and excited to see Sequoia join hands with Wobot in this journey."

said Vineet Sagar, Co-founder and Managing Partner at Venture Garage.
If you are a firm in the hospitality, pharma, manufacturing or retail industry, Wobot can help you make your CCTV cameras smarter to assist you in your business. To connect with Wobot team, write to us at vineet@venturegarage.in or vivek@venturegarage.in.
---