Jadooz Raises fund
Venture Garage Portfolio Company Jadooz Raises Seed Round from Artha Venture Fund, Rannvijay Singh; Ravi Kishan Joins as Celebrity Partner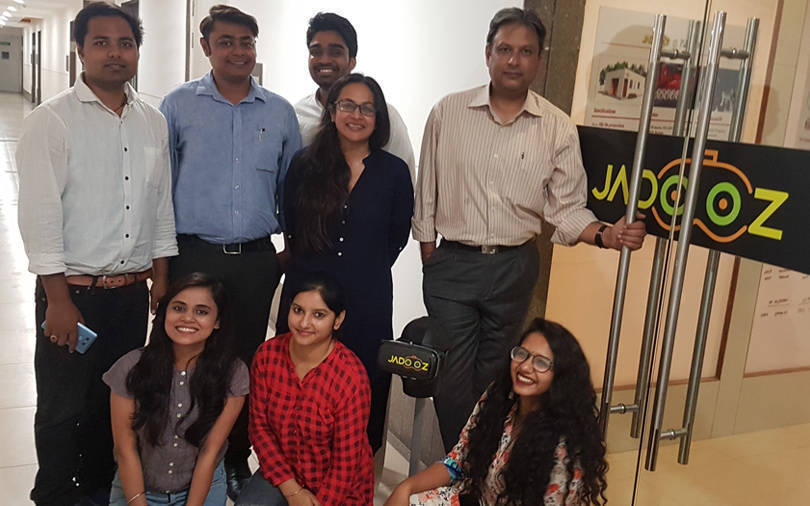 New Delhi, 12 June 2019: Venture Garage today announced that its "Garager" company, Jadooz Media Solutions Pvt. Ltd which operates entertainment zones in Tier 2 & 3 cities across India, has raised Rs 1.85 crore in seed funding led by Artha Venture Fund. The round also saw participation from celebrity actor Rannvijay Singh Singha.


A typical Jadooz entertainment destination comprises of a 50-80 seater cinema, a VR center and a café. Jadooz is focussed on Tier-2 & Tier-3 Indian towns as opposed to a PVR/Inox which focusses primarily on the metros. Jadooz's markets include towns with a population of 25k to 2.50L people and an average per family income of INR 15,000 to 35,000 per month. Rs 500 is all it takes for a family of four people to watch a movie, munch on chai-nashta, and experience VR as opposed to Rs 2,500 for the same experience in a metro.


"Bharat dwellers want an urban theatre-going experience at affordable prices and at more convenient locations. Jadooz is catering to that demand by building smaller theatres with a world-class movie viewing experience in Tier II and III towns. Their cinemas, cafés, and VR zones are all up to urban standards. We see a big business opportunity in satiating this unaddressed demand, which is why we have decided to back Jadooz"


Anirudh Damani, Managing Partner of Artha Venture Fund.

Jadooz is co-founded by Rahul Nehra, a professional from the content distribution technology space, and Kanika Singhal, who brings with her experience in design and architecture. Actor and politician Ravi Kishan is a celebrity partner who will be assisting Jadooz to open 500 zones in Bihar & UP, while Padma Shri awardee actor Shobana Chandrakumar, Producer/Director Chandran Rutnam are mentors.



"We are thankful to Anirudh and his team for reposing faith in Jadooz. We share a common vision of creating the next wave of mini-theatres and entertainment zones, for the masses, in India, and across the emerging markets,"


Rahul Nehra, Founder of Jadooz

Jadooz has three fully functioning entertainment centers in Pindra (Varanasi), Thumuluru (Andhra Pradesh) and Kakinada (Andhra Pradesh). The company expects to open 25-35 centers by the end of 2019 and has MoUs/franchise commitments in place to guide the company to 250 centers by 2020, making it the fastest growing company in this segment. Jadooz also possesses a unique IP which is its secure content distribution network that delivers content via satellite and Jadooz secured drives.

"For a while now, film and television are the mediums by which I have voiced my opinions and shared my emotions. So, when the guys at Jadooz came to me with their idea of community building through entertainment, I felt it was both a challenge and an opportunity. It's an opportunity because community building was the long-term goal of the talkies, and a challenge because it hasn't been achieved in Indian cinema's 100-year history. Today, of course, the mediums have changed, but that only highlights the vastness of the gap that Jadooz must fill. They have my complete support,"


added celebrity actor and co-investor in Jadooz, Rannvijay Singh.

"Tier 2 & 3 Indians are now earning more allowing them to start spending on family entertainment. This has opened a new gateway of opportunity for the entertainment industry. In 2006, China had 2.4K movies theaters which grew to almost 20K theaters by 2015 led by low-budget screens. We feel Jadooz has the right team and backing to capitalize on a similar story in India",


Vivek Kumar, CEO of Venture Garage.

Venture Garage portfolio companies that have recently raised funding include p2p lending company Lendbox which raised Rs.6Cr from Mumbai-based Ivycap Ventures, fashion renting platform Rentitbae which raised an undisclosed amount from Delhi-based GEMS VC, lifestyle and entertainment media company Whatsuplife which raised strategic investment from TV Celebrity & actor Rannvijay Singh, among others.
---
About Venture Garage: Venture Garage works with early stage business in fundraising. VG also offers a "GARAGER" program to enable and equip start-ups in the areas of strategy, go-to-market, digital, and technology with a view to scaling up fast and attracting angel, seed funds and venture capital.
---