10x Women Entrepreneurship Summit
28/01/19@28/01/19

-

28/01/19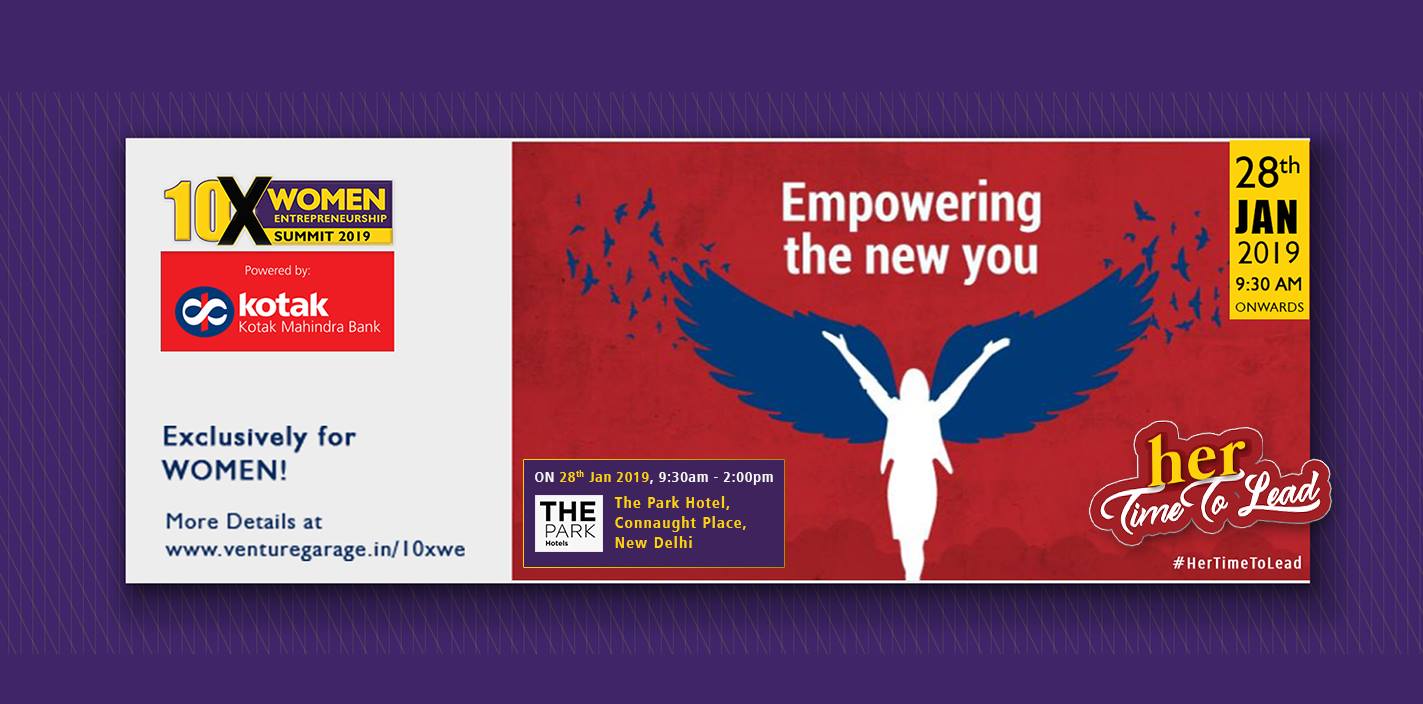 She is intelligent, she is independent, she is bold. Today, the women of our country have come a long way from being a housewife, to becoming a source of income for her home, to heading business giants & now to building the unicorns of tomorrow.
She is not new to leadership. Think of Indra Nooyi, or Chanda Kochhar, or Indira Gandhi, or Mother Teresa. She has lead from the front in building many success stories around politics, business, reforms and many other walks of life.
While many women have set examples in leadership they are still underrepresented in entrepreneurship, leaving much room for women to capture the space.
10X Women Entrepreneurship Summit, is an exciting, innovative event by Venture Garage, in association with Kotak Mahindra Bank, because, "even she needs a push".
About 100 Women Entrepreneurs, Business Leaders, Influencers, Bloggers & Investors are coming together to push her to become more enterprising. We welcome you to celebrate the spirit of Women Entrepreneurship.
Who Should Attend?
Women SME Business Owners
Women Founders of Startups
Investors
Corporate Business leaders
Influencers/Bloggers
Why Attend?
10x WE is a platform for women entrepreneurs to learn, take inspiration from other accomplished women, and network with each other to find growth opportunities for their business.
Session Details
10:00 AM – 10:10 AM
WELCOME NOTE
Vivek Kumar CEO, Venture Garage
10:10 AM – 10:30 AM
IMPACT STORIES 1: Achieving Healthy Success
Dr. Shikha Sharma renowned nutritionist in conversation with Aanchal Saini, Co-founder & CEO, Rentitbae.com
10:30 AM – 11:15 AM
PANEL DISCUSSION 1: Torchbearers: The Dream, The Struggle, & The Prize
Tripti Singhal (Moderator): Chairperson – Confederation of Women Entrepreneurs 
Suchita Salwan: Founder & CEO, Little Black Book=
Rashi Narang: Founder, HeadsUpForTails
Sakshi Tulsian: Co-founder, Posist
Priyanka Gill: Founder & CEO, POPxo
Rebekkah Kumar: Founder, Fourseven
Prajakta Koli: Youtuber
11:15 AM – 11:35 AM
IMPACTFUL STORIES 2: Taking inspirations
Shazia Ilmi- TV News Anchor turned Politician in conversation with Ms. Kanika Singhal, Co-founder Jadooz Entertainment 
11:35 AM – 12:00 PM
Coffee & Snacks Break
12:00 PM – 12:45 PM
PANEL DISCUSSION 2: Leading from the front; Challenges & Overcoming them
Lovely Kumar (Moderator): Founder, Larks Learning & Women Lead 
Vani Gupta Dandia: Co-Founder & CEO, Benddit
Dr. Abha Malik: Founder & Director, Aushealth Global
Shabnam Singhal: Owner & Managing Partner, Sirius D&E
Dr. Jai Madan: Renowned Astrologer & Vaastu Expert 
Ms Harmeet Bajaj: Director- Impresario 
Ms. Bharti Malhotra, Vice President, Kotak Mahindra Bank
12:45 PM – 01:00 PM
IMPACTFUL STORIES 3: Working in unconventional and male dominant professions
Squadron Leader Anjali Rathee, Indian Air Force in conversation with Ms. Divita Kanoria, Chief Wellness Officer – Tatha
01:00 PM – 01:45 PM
PANEL DISCUSSION 3: 10X Women Entrepreneurship, Scaling Dreams
Anisha Singh (Moderator): Founder, Mydala.com and SheCapital VC
Dr. Anu Gupta: Angel Investor & Director, Techlixr e-Ventures
Shilpa Sehgal: Associate Partner, Equanimity Investments
Shweta Singh: Principal, SRI Capital
Swapna Gupta: Senior Investment Manager, Qualcomm Ventures
Sonali Thapar: Director, TCAP, Thapar Family Office
Riya Aggarwal: CEO, BLS Accelerator
01:45 PM Onwards
Lunch, Networking & Breakoff