START UP BUDDY CONCLAVE
10/02/18@10/02/18

-

10/02/18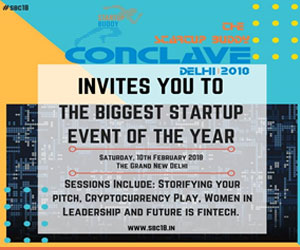 The Startup Buddy Conclave 2018 (SBC18) is organized with an objective of providing a platform to the growing startup eco-system of Delhi NCR to collaborate and share knowledge with their counterparts.
The Startup Buddy Conclave 2018 is a unique opportunity for startups, individuals, venture capitalists, accelerators, Incubators, angel investors and service providers to come and be part of a large mix to celebrate entrepreneurs and entrepreneurship with opportunity to interact and network with people of direct interest in each other.
The initiative is first of many conclaves that will travel across the country to discuss issues pertaining to startups and businesses in the country to help decipher the growth potential and economic scalability along with opportunities of innovation among the young of the nation.