Opportunity for Limited Partner in a CAT 1 angel fund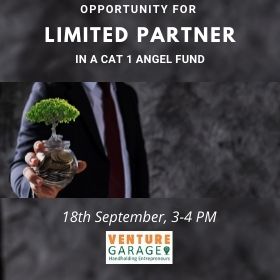 We are organising a pitch session for our investors who would like to become an investor as a Limited Partner (LP) in a CAT 1 Angel Fund.
DATE: 18th September 2021, 3:00-4:00 PM IST
AGENDA: 
3:00 –  3:05 PM– Welcome Note & Introduction
3:05 – 3:30 PM– Pitch by the Angel Fund
3:30 PM onwards: Q&A by the Investors
INVESTMENT PHILOSOPHY OF THE FUND:
Business Perspective: Revenue generating. Balanced teams. Innovative & scalable business model. Sustainable competitive advantage.

Investor Perspective: First institutional Investor. Financial, legal & regulatory due diligence. Lead Investor with Board Representation. Continuous Strategic Value Add & Financial Discipline.

Investment Outcome: Maximum Upside Potential. Brand & Scale Benefits. Better Governance & Control.
WHO SHOULD ATTEND: If you have been exposed to being an LP/ currently are, ready to invest ~50 Lakhs.
HOW TO ATTEND: Write to us at: vk@venturegarage.in or fill the form below. Once done our team will get back to you shortly with the required information
---