Venture Garage proudly presents Capitalize 2.0 powered by HDFC Bank
12/01/18@12/01/18
₹1200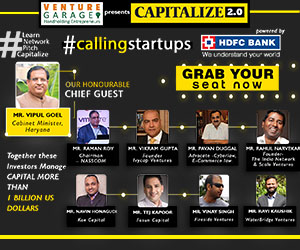 Capitalize is a unique event for Startups conducted annually by Venture Garage. It is a platform for entrepreneurs to Learn, Network and Pitch for funding. The event will add significantly to the startup ecosystem in India by bringing together Govt., Angel & VC Investors, Industry Leaders, Associations and more than Startups from all over India.

Book Tickets


AGENDA:
2:00pm – 2:15pm : Registrations
2:15pm – 2:25pm : Welcome Remarks by Mr. Vivek Kumar, CEO Venture Garage
2:25pm – 2:35pm : Address by Mr. Deepak Kapoor, Founding Member – BPO Association of India
2:35pm – 2:45pm : Presentation by Mr. Sunil Khosla, E.V President – Sales & Marketing, AGS Transact Technologies Ltd.
2:45pm – 3:00pm : Motivation for Entrepreneurs, Mr. Raman Roy, Serial Entrepreneur, Chairman of NASSCOM and Father of Indian BPO Industry
3:00pm – 3:30pm : Keynote by Hon'ble Cabinet Minister, Shri Vipul Goel
3:30pm – 3:45pm : Address by Mr. Jasmeet Anand, Zonal Head, HDFC Bank
3:45pm – 4:30pm : Panel Discussion The Funding Landscape in 2018 and the outlook for Gurugram
Mr. Ravi Kaushik, Partner, WaterBridge Ventures
Mr. Vikam Gupta, Founder & Managing Partner at IVYCAP Ventures
Mr. Tej Kapoor, Managing Director at Fosun RZ Capital
Mr. Vinay Singh, Partner at Fireside Ventures
Mr. Rahul Narvekar, CEO of the The India Network & Scale Ventures
Mr. Navin Honagudi, Investment Director at Kae Capital
4:15pm 4:30pm : Coffee & Networking Break
4:30pm – 4:40 pm : Opening Remarks for Pitching Session by Mr. Ravi Kaushik, Partner at WaterBridge Ventures
4:40pm – 5:30pm : Startup Pitch #1 & #2 (with 30 Investors)
5:30pm – 5:45pm : Legal & Startups by Mr. Pavan Duggal, One of Top 4 Leading Cyber Lawyers in the world
5:45pm – 6:30pm : Startup Pitch #3 & #4 (with 30 Investors)
6:30pm onwards : Networking over Drinks & Snacks


30 VCs and ANGEL INVESTORS are coming to fund your venture
Apply Now
NOTE: Booking of tickets is mandatory to attend the event whether or not your venture gets shortlisted among 4 startups to pitch at the event.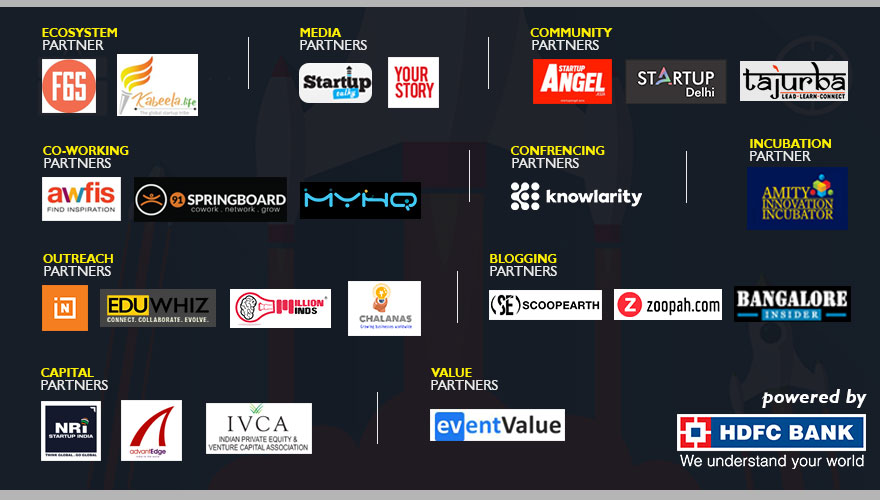 About Venture Garage
We Love Entrepreneurs. At Venture Garage we strive to enable and equip the entrepreneurship ecosystem in India by providing startups with access to market, capital, technology, advisory & government support. We manage a strong network of 150,000+ people working as entrepreneurs, CXOs and decision makers of large organizations.
About Capitalize 1.0
Capitalize 2017 was hosted in April 2017 @IIT Delhi. 40+ investors flew in from various Indian cities to address an audience of 300+ entrepreneurs and various startup ecosystem players. Some of the marquee investors who spoke at the event include RehanYar Khan (investor in Ola), Ravi Kaushik (investor in Unacademy), Ojas Babber (Amity Innovation Center), Tej Kapoor (investor in Delhivery & Ixigo), Girish Shivani (Yournest Angel Fund)  among many others. Top 8 startups shortlisted from over 200 entries were given an opportunity to pitch to the panel of 40 investors to raise capital upto Rs.2Cr. Eventually one of the startups raised Rs.2Cr from investors.