21by72
17/06/22@17/06/22

-

19/06/22@19/06/22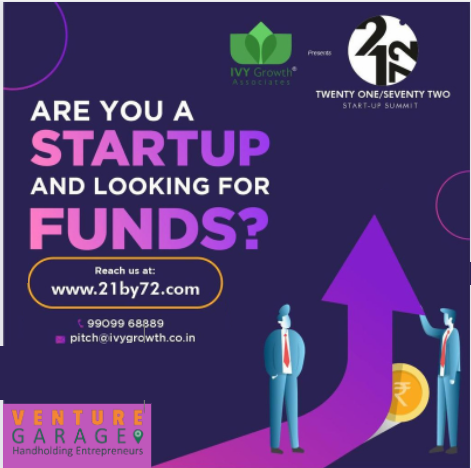 Venture Garage as a partner is delighted to invite you at 21by72. 
21by72 is being organised by
Ivy Growth

which is a Startup Summit where they intend on having all 
startup ecosystem stakeholders viz. founders, evangelists, VCs, angels, public authorities and consumers under one roof on
17, 18, 19 th June this year in Surat, Gujarat
and letting the magic of networking play with following highlights: 
– 100 Startups Exhibition to 1000s of investors & consumers
– Selected 25 startups will pitch to a VC panel with a chance to get funded up to $ 500k under 'Trailblazers Mine'
– Panel Discussions on the 'The New Age Economy & Role of Startups'

Ivy Growth is an Angel Network based in Surat building an international corridor of startups and investors across India, the UK, UAE, and Africa having invested in 32 startups and deployed capital of ₹27Cr+. The advisory team comes with extensive experience in start-ups mentoring & investing.