Geek Point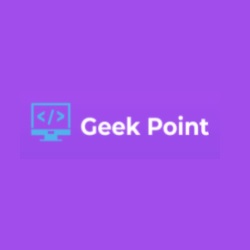 We are a subscription based unified D-I-F-M platform for SMEs / freelancers to go digital. We offer all-inclusive packages ranging from Rs.99-999 per month and dynamic consumption pricing. A single point App leveraging AI & Data Science for building A to Z turn-key solutions that assist newbies & existing businesses to go Digital with low TAT.

Geek point is Technology + Content + Engagement, unified, under one roof.
1. Technology: Build Fundamental Digital Infrastructure & Online Identity to have a Digital Presence for business, that intend to do scalable commerce online.
2. Content: Provide a repository of usable & relevant News / Reading Content that results in LOB specific engagement.
3.Engagement: Enable customer to track, measure the interactions with its users via analytics.
OPPORTUNITY:
It is now a Necessity, not a choice anymore. Small business needs to Control, Build & Manage their own digital presence. However, every business going digital today faces these questions. Too many options to select from. What to aim for? How to engage users? When to Share? How to measure results? Blog? Mailers? SMS? WhatsApp Bot? Notifications? App Notifications? W are targeting to 80M+ SME /freelancer addressable market in the short term.
TEAM:
CEO & CTO: 10+ Years in Tech. Core CyberSec. Ex. Dell, Convergys, IBM. PSU Banker. Consulted FB, WA, RituKumar, GMR, R1RCM, Motilal Oswal.
Finance & Operations: 15+ Years in Finance. Ex. Tata, Mitsui, GE Capital, & Brookfield Properties.
Sales & Marketing: 15+ Years in Strategic Marketing & Growth. Ex. Future Group, Spencers, Walmart India.


---
write to vk@venturegarage.in to invest in this startup
---